Waheguru Ji Ka Khalsa Waheguru Ji Ki Fateh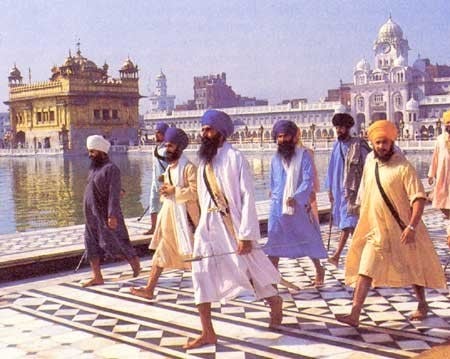 Khushwant Singh reports:

'On a later visit to Amritsar I got an inkling into the reasons of Bhindranwale's popularity. I will narrate two incidents to illustrate this. One day a young girl came to see Bhindranwale. ..... She clutched his feet and sobbed out her story of how she was maltreated by her husband's family for failing to extract more money from her parents and of her husband's unwillingness to take her side.

Bhindranwale asked her name and where she lived. "So you are a daughter of the Hindus," he said.
"Are you willing to become the daughter of a Sikh?" She nodded. Bhindranwale sent a couple of his armed guards to fetch the girl's family. An hour later a very frightened trio consisting of the girl's husband and his parents were brought to his presence.

"Is this girl a daughter of your household?", he demanded.

They admitted she was. "She tells me that you want money from her father. I am her father." He placed a tray full of currency notes before them and told them: "take whatever you want". However, the three instead craved forgiveness.'

Waheguru Ji Ka Khalsa Waheguru Ji Ki Fateh