Waheguru Ji Ka Khalsa Waheguru Ji Ki Fateh
AAP SAVAAREH, MAIN MILEH, MAIN MILIYAAN SUKH HOYE
FARIDAA, JE TU MERA HOYE RAHE, SABH JAG TERA HOYE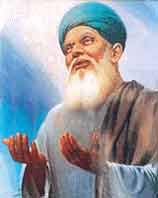 This salok by Bhagat Farid ji really struck me deep inside. The main reason why this salok hits me deep is that this is Waheguru himself, Akal Purakh himself uttering it in first person.
Most of the bani is addressed to Waheguru, mind, seeker or Gursikhs. But this salok is of great importance because Waheguru himself is addressing us.
Waheguru speaks in first person as follows:
O Farid, if you beautify yourself, if you fix yourself, then you will be able to meet me and by meeting me, you will get immense happiness (sukh).
O Farid, I assure you that if you become my own from your heart, then the whole world will become yours i.e. will become in your hukam (order).
What a great saying by Waheguru himself to his seekers. If we walk in his hukam then the world will walk in our hukam. This is the gist of this salok just as in "Man jeetay Jag jeet". Waheguru has spoken through his bhagat - Bhagat Farid ji. May Waheguru himself give us power to obey this hukam of Waheguru.
Waheguru Ji Ka Khalsa Waheguru Ji Ki Fateh